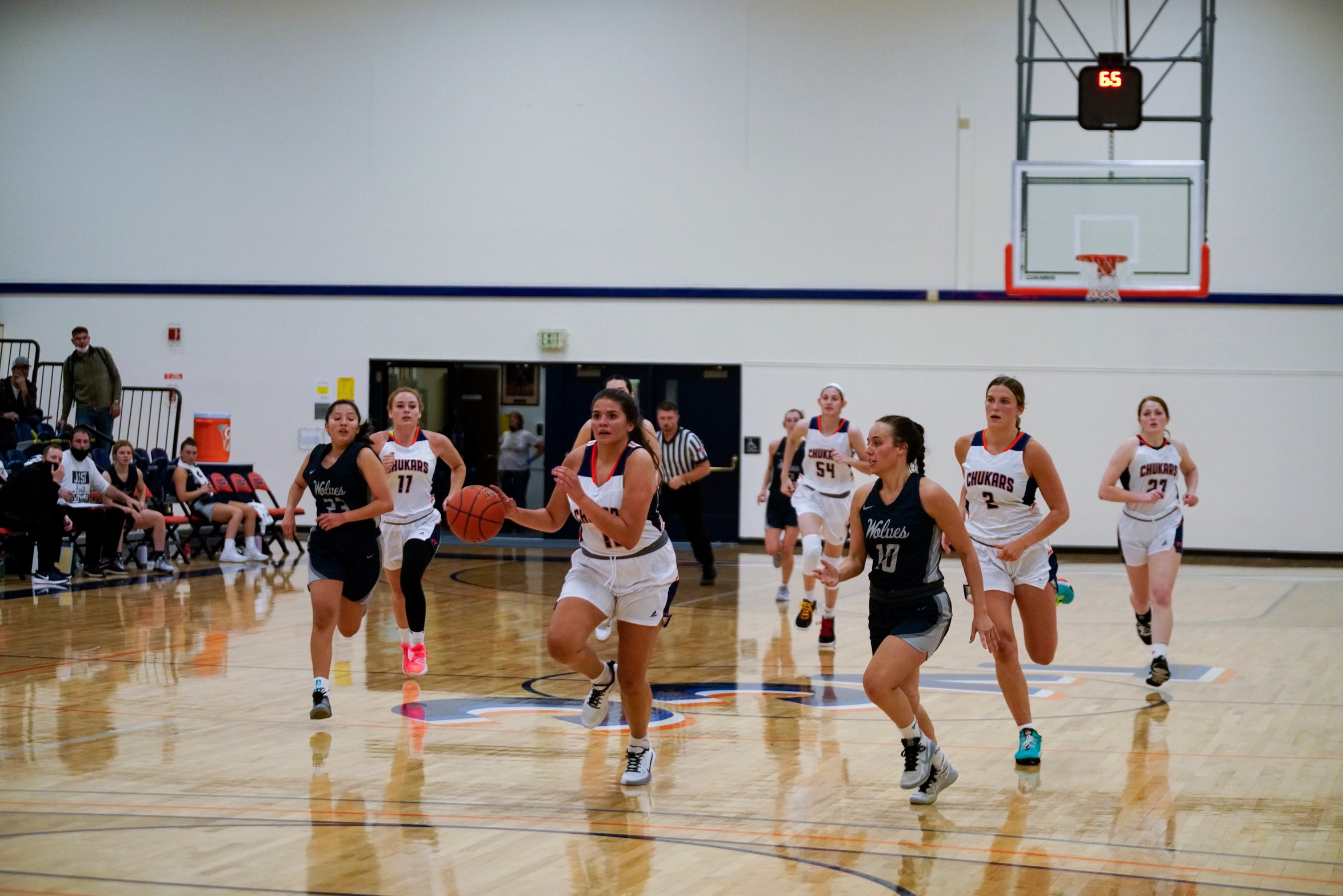 [Eugene, OR] - The Chukar Women's Basketball team headed to Eugene, Oregon for the Lane Titan Classic Tip-Off Tournament over the weekend. Their first game was against host team Lane on Friday, November 19th. Lane won the Southern Region Conference during last year's modified COVID-19 season, posting a 13-1 recored. Treasure Valley got off to a slow start, only scoring 4 points in the first quarter, while the Titans posted 14. The Chukars got on the board with 19 in the 2nd quarter, but couldn't hold Lane down. The final score of the game was 81-49 in favor of the Titans. Sophomore Hanna Roberts posted a double-double, with 16 points and 17 rebounds on the evening.
Gearing up for game two on Saturday, the Chukars were set to face off with the Centralia Trailblazers. The Chukars started the game strong posting 20 points in the 1st quarter, holding the Trailblazers to 4. Throughout the entire game, Hanna Roberts dominated the rebounding battle, recording a single-game school record 31 rebounds. She added 8 points to her solid rebounding performance. Sophomore Maunayia Harrigfeld recorded a double-double of her own, with 14 points and 12 rebounds on the night. The Chukars topped the Trailblazers with a final score of 56-41 to find the win column for the first time this season.
On the third and final day of the weekend, Treausre Valley matched up with the Pierce Raiders. The Chuks got off to another hot start, sinking 21 points in the first quarter. Sophomore Maunayia Harrigfeld had a solid outing, as she went 7-13 from the field, 4-7 from the 3-point line, and posted another double-double with 20 points and 18 rebounds. Sophomores Hanna Roberts, Emma Clark, and Mercedes Bell all netted 10 points each. The Chukars prevailed over the Raiders, with a final score of 71-44.
Following the final game, Hanna Roberts was awarded an All-Tournament Team award. Treasure Valley finished the weekend with a 2-1 record.
The Chukars will look to face off against NJCAA powerhouse College of Southern Idaho at the Idaho Central Credit Union Invite in Twin Falls on November 27th. CSI is currently ranked #19 in the NJCAA National Rankings.